Upcoming Films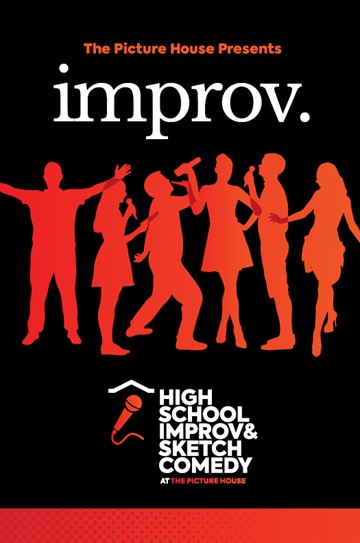 June 1st, 2019
Improv and Sketch Comedy
Shows: First Saturday of Every Month
Improv is back at The Picture House!
Come see a live performance by "The Pelicants" some of Westchester's most talented Middle and High School Improv and Sketch comedy artists!
Admission is $5 per person. Tickets available at the box office.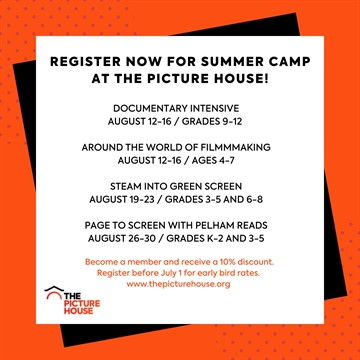 August 12th, 2019
Around the World of Filmmaking
New this summer, a fun exploration of film for our youngest students! Kids aged 4-7 are invited to learn about all aspects of filmmaking in a relaxed and positive environment. Students will begin the week with a reading of Young Charlotte, Filmmaker for inspiration, and continue with exercises in improv, acting, camera technique, and storytelling. Daily screenings of animated short films from aroundthe world will allow students to experience different cultures through the art of film. Throughout the week, students will visit the nearby park for play and character and camera work will be edited by the instructors and included in our annual, red-carpet Student Showcase on Saturday, September 7 th.
Around the World of Filmmaking for ages 4-7, August 12 th -16 th , 9am-12pm
Location: The Picture House, 175 Wolfs Lane
Cost: $275/$250 Early Bird (before July 1st ); 10% Membership Discount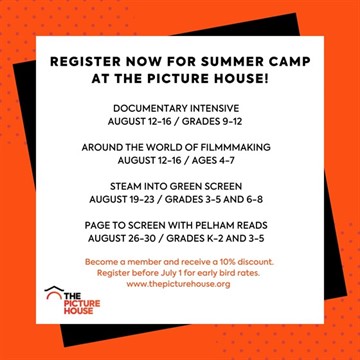 August 12th, 2019
Documentary Intensive for High School Students
In Documentary Filmmaking students will explore meaningful topics and important social issues while learning all aspects of documentary filmmaking, including camera, lighting, and interview techniques. Students will film in class and on location in southern Westchester, and produce a short form documentary about an area organization or subject of interest. The student producers will be credited with making the film and will receive a digital copy to use in their own portfolios.
The film will also be included in our annual, red-carpet Student Showcase on Saturday, September 7th .
Documentary Intensive for Grades 9-12, August 12 th -16th 1pm-4pm
Location: 253 Wolfs Lane, Satellite Film Lab/On Location
Cost: $525 (regular)/$500 Early Bird (On or before July 1 st ); 10% Membership Discount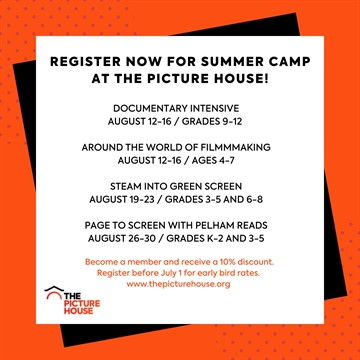 August 19th, 2019
Steam Into Green Screen: Grade 3-5
This camp is designed with special effects in mind! Join us in front of the green screen in our Satellite Film Lab where students will create their own adventure stories with special effects and graphics. Students will get the chance to imagie their own short adventure and will collaborate with the class to bring their idea to the screen. Students will learn about storyboarding, basic film techniques, and creating simple graphics and special effects. They will also have the opportunity to edit the film during class, and can take pride in their own work from start to finish. The film will be included in our annual, red-carpet Student Showcase on Saturday, September 7th . STEAM into Green Screen for Grades 3-5 and 6-8; August 19th - 23 rd , 9am-12pm and 1pm-4pm
Location: 253 Wolfs Lane, Satellite Film Lab
Cost: $275 (regular)/$250 Early Bird (On or before July 1 st ); 10% Membership Discount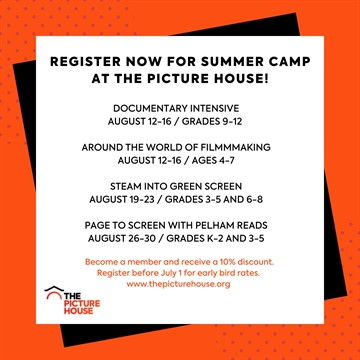 August 19th, 2019
Steam Into Green Screen: Grade 6-8
This camp is designed with special effects in mind! Join us in front of the green screen in our Satellite Film Lab where students will create their own adventure stories with special effects and graphics. Students will get the chance to imagie their own short adventure and will collaborate with the class to bring their idea to the screen. Students will learn about storyboarding, basic film techniques, and creating simple graphics and special effects. They will also have the opportunity to edit the film during class, and can take pride in their own work from start to finish. The film will be included in our annual, red-carpet Student Showcase on Saturday, September 7th . STEAM into Green Screen for Grades 3-5 and 6-8; August 19th - 23 rd , 9am-12pm and 1pm-4pm
Location: 253 Wolfs Lane, Satellite Film Lab
Cost: $275 (regular)/$250 Early Bird (On or before July 1 st ); 10% Membership Discount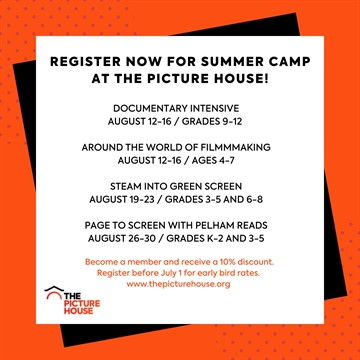 August 26th, 2019
Page to Screen with Pelham Reads: Grade 3-5
In celebration of the best in childrens literature, and in partnership with Pelham Reads, The Picture House will provide students with the opportunity to star in their own version of the timeless classic A Tree Grows in Brooklyn. A short, age- appropriate script will be adapted from the original story - kids in grades 3-5 will take on the leading roles, while kids in grades K-2 will fill out the supporting cast. Student groups will work separately and together as actors, producers, cinematographers, and set designers throughout the week. The camp culminates with the last two days filming on set, as professional filmmakers work with the students to shoot and produce their film. The finished film will debut as part of a special screening at The Picture House in November, complete with lights, cameras, and the red carpet. Page to Screen with Pelham Reads for grades K-2 and 3-5, August 26 th -30 th ,9am-12pm
Location: The Picture House, 175 Wolfs Lane
Cost: $275 (regular)/ $250 Early Bird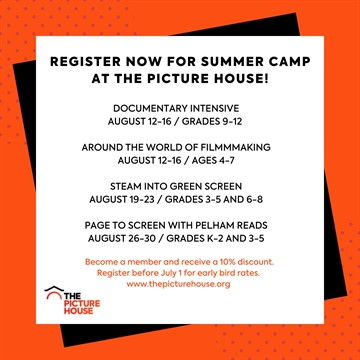 August 26th, 2019
Page to Screen with Pelham Reads: Grade K-2
In celebration of the best in childrens literature, and in partnership with Pelham Reads, The Picture House will provide students with the opportunity to star in their own version of the timeless classic A Tree Grows in Brooklyn. A short, age- appropriate script will be adapted from the original story - kids in grades 3-5 will take on the leading roles, while kids in grades K-2 will fill out the supporting cast. Student groups will work separately and together as actors, producers, cinematographers, and set designers throughout the week. The camp culminates with the last two days filming on set, as professional filmmakers work with the students to shoot and produce their film. The finished film will debut as part of a special screening at The Picture House in November, complete with lights, cameras, and the red carpet. Page to Screen with Pelham Reads for grades K-2 and 3-5, August 26 th -30 th ,9am-12pm
Location: The Picture House, 175 Wolfs Lane
Cost: $275 (regular)/ $250 Early Bird